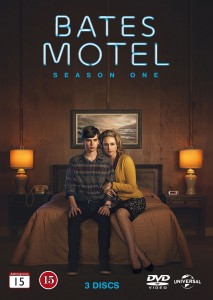 Bates Motel
Mike Vogel as Deputy Zack Shelby
The Story
A modern re-imagining and prequel to the movie Psycho (1960). After finding his father dead, teenager Norman Bates (Freddie Highmore, Charlie and the Chocolate Factory) and his mother, Norma (Academy Award nominee Vera Farmiga), purchase a motel and move to White Pine Bay in search of a new life.
They soon discover this idyllic seaside town hides some deadly secrets. Unable to trust anyone but each other, the two indulge in a deeply twisted relationship that raises the question: does mother really know best? Watch every episode back-to-back and uninterrupted of the murderously suspenseful drama that tells the story behind one of the most iconic characters in movie history.
---

Created by: Anthony Cipriano, Carlton Cuse and Kerry Ehrin
Genre: Drama / Mystery / Thriller
Filming Locations: Aldergrove, Coquitlam, Steveston, Richmond, Horseshoe Bay, West Vancouver
Seasons: 5
Run Time: 45 minutes
Premiered: March 18th, 2013
DVD Release Date: September 17th, 2013

---

Cast
Vera Farmiga – Norma Louise Bates
Freddie Highmore – Norman Bates
Max Thieriot – Dylan Massett
Olivia Cooke – Emma Decoy
Nicola Peltz – Bradley Martin
Nestor Carbonell – Sheriff Alex Romero
Mike Vogel – Deputy Zack Shelby
Keegan Connor Tracy – Miss Watson
Jenna Romanin – Jenna
Brittney Wilson – Lissa
---
---
 
Season 1, Episode 01 – First You Dream, Then You Die (March 18th, 2013)
Season 1, Episode 02 – Nice Town You Picked, Norma (March 25th, 2013)
Season 1, Episode 03 – What's Wrong With Norman (April 1th, 2013)
Season 1, Episode 04 – Trust Me (April 8th, 2013)
Season 1, Episode 05 – Ocean View (April 15th, 2013)
Season 1, Episode 06 – The Truth (April 22th, 2013)
Season 1, Episode 07 – The Man In Number 9 (April 29th, 2013)
---

Links
Facebook
Twitter: @InsideBates
Official Website
---

Goofs
- The outside of the Bates house is extremely small. The front porch is no more than 10 feet wide, and the whole house less than 25 feet wide, and perhaps 30 feet deep. (This is about the size of 4 of their hotel rooms.) And yet many of the rooms inside the house are much larger than this. The master bedroom alone is at least 30'x30′, and it is just one room on the upper hallway, that includes a vaulted stairway.
---

Quotes
Deputy Zack Shelby - "I love you, you idiot!"
---

Trivia
- The exterior of the Bates' house is a faithful reproduction of the design for the characters' house in Psycho (1960), which was in turn modeled by Alfred Hitchcock after Edward Hopper's 1925 painting The House by the Railroad. That painting was the very first one that was acquired by New York's Museum of Modern Art (in 1930).
---

Trailer