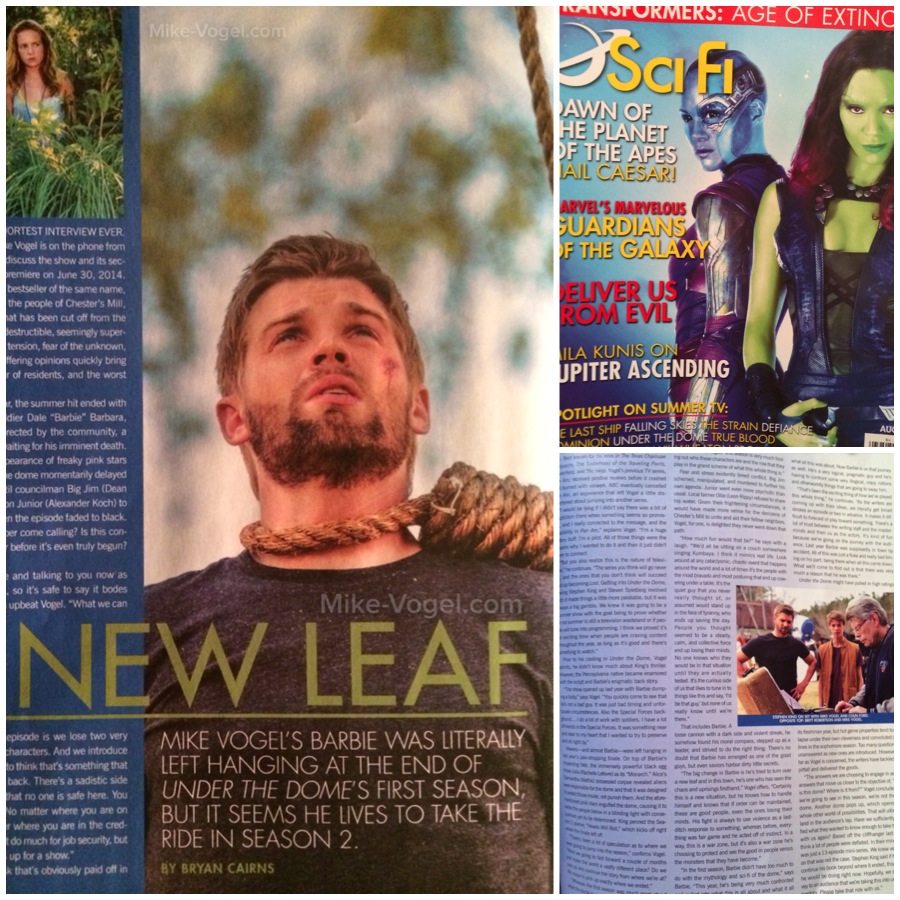 Sci Fi Magazine's August Issue features a short interview on Mike and his character Barbie, on CBS's "Under The Dome". Just as the Summer Hit show ended in season one with Mike's character facing imminent death by the community of Chester's Mill, we're taken back on a journey of mysteries and questions. Did Barbie make it out alive?
What we can see quickly in the first episode is we lose two very popular, very well-loved characters. You like to think that's something that will keep people coming back. There's a sadistic side of us that likes to know that no one is safe here", Mike says on a phone interview from the North Carolina set.
"Clearly, I'm still here and talking to you now as we're filming Episode 4". Yeah, we can bet Barbie escapes public execution.The interview also touches on Mike jumping onto another series ("Under The Dome") when ABC eventually cancelled "Pan Am".
Mike continues, "I would be lying if I didn't say there was a bit of skepticism there when something seems so promising, and I really connected to the message. I'm a huge history buff. I'm a pilot. All of those things were the reasons why I wanted to do it".
Going into a summer show like "Under The Dome" seemed like a risk for the whole production. "I think we proved it's an exciting time when people are craving content throughout the year, as long as it's good and there's something to watch".
There's more in the interview that Mike touches on about what intrigued him about Barbie and what season two holds. "The first season was much more about what the dome is and trying to figure out the situation we are in. This season is very much finding out who these characters are and the role that they play in the grand scheme of what this whole thing is".
Want to read more? Get your copy of Sci fi Magazine now in bookstands everywhere with "Guardians of the Galaxy" on the cover (August Issue). You can catch "Under The Dome" on Monday's on CBS at 10/9pm. Check your local listings for more information.
Aaron, Webmaster